About CPIT Edutech Pvt Ltd
CPIT Edutech Private Limited (CPIT) is a leading organization in skill development & vocational training landscape, building skill manpower pool for industry requirements. The company is also one of the largest skills provider offering

training in 8 sectors in IT, Garment, Beauty, Retail , Logistics .,Telecom, Health, Agriculture and Services sector.
Good qualification leads to better Placement & for having better placements, students should have the ability to procure placements. The Govt. has made considerable efforts to enhance the skill of Youth to shorten the gap between demand & supply of skilled workforce. In our country a big part of population is underemployed or unemployed & industry is facing shortage of Labour.
Henceforth, CPIT is a unique platform which serves to utilize the skill of youth in a productive...
Director's Message
It has been an amazing experience & journey at CPIT Edutech Pvt. Ltd. since 2002. I feel extremely satisfied to be one among the glory of educationlists in career point institute of Information Technology. Our vision, mission & goal is to be a world class service provider. It has been our endeavor to train our students to be competent professionals. We ensure to enrich the students with best of knowledge & skills along with the latest updates with our variety of courses like Beauty, Retail, Health, Telecom etc. I am confident that being...
Recent Activities
Admissions opens for Sikho aur Kamao.
Industrial Visit in Rudrapur,Uttarakhand.
PMKVY Batch Started in Sirsa.
Placements in Pilani Rajasthan.
New Centre Started in Sirsa, Haryana.
Industrial Visit in Motipur,Bihar.
Mobilization Shivir In ITI Girls College.
Inaugration of CPIT Center in Sirsa.
Inaugration of Beauty Parlour in Rori Bazar.
Training Starts from today in Motipur.
Interviews in Ganganagar
Placements in Ganganagar
SURYAMITRA SKILL DEVELOPMENT PROGRAM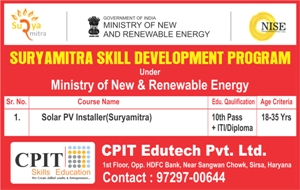 Placement Partners